Overview
---
–CALL FOR APPLICATIONS–
Center of Excellence for Energy Scholarship
Funded by the United States Agency for International Development (USAID)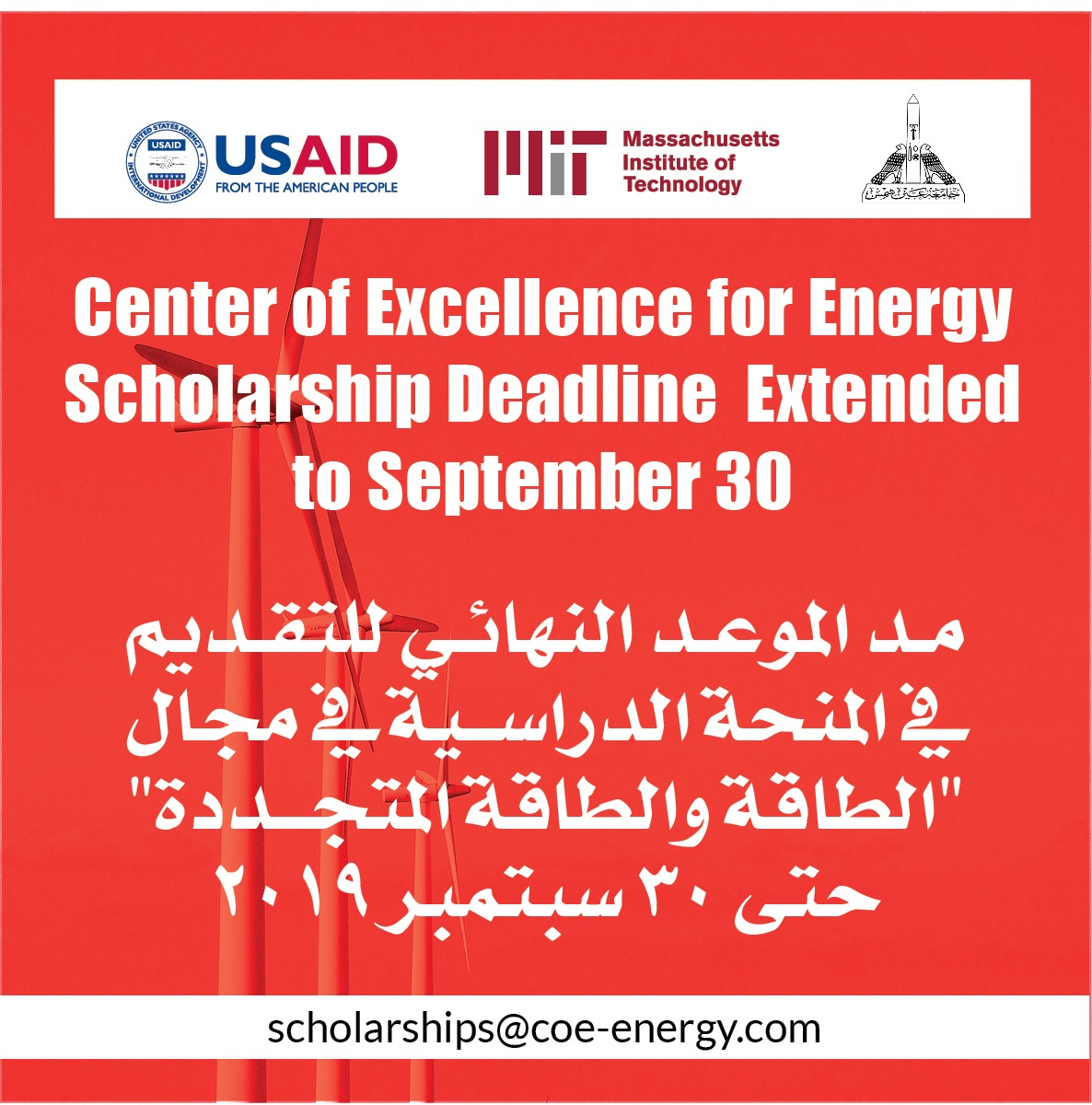 The Center of Excellence for Energy was established by the Massachusetts Institute of Technology with the support of the American people though the U.S. Agency for International Development
The USAID-funded Center of Excellence for Energy (COE-Energy) implemented by the Massachusetts Institute of Technology (MIT) in cooperation with Ain Shams University, Aswan University, and Mansoura University is pleased to announce the first round of the COE-Energy Academic Scholarship in Energy and Renewable Energy. The objective of the COE-Energy scholarship is to increase the availability of qualified graduates in the field of Energy and Renewable Energy, while supporting equal opportunities among scholarship beneficiaries. The COE-Energy scholarship funded by USAID provides funding for students attending the four-year Energy and Renewable Energy Credit Hour Program at Ain Shams University. Applicants must meet the following eligibility criteria in order to qualify.
The COE-Energy Scholarship Eligibility Criteria:
Egyptian Nationality
Undergraduate students must be eligible for registration in the Energy and Renewable Energy Engineering Program at Ain Shams University. Eligible applicants from public Egyptian Faculties of Engineering are welcome to apply. Priority given to applicants from Center of Excellence in Energy (COE-Energy) partner universities (Aswan and Mansoura Universities).
Applicants must be graduates of Egyptian public or experimental schools.
Applicants must score a minimum GPA of 3.0 in the Faculty of Engineering Freshman Academic Year 2018/2019. Priority will be given to applicants with higher GPAs.
Undergraduate students must have a valid TOEFL/ITP, TOEFL/IBT, or IELTS score with a minimum of:

500 in ITP, or
60 in IBT, or
5 in IELTS

Applications must be submitted by 11:59 pm, September 30, 2019 through the following link: (application) No applications will be accepted beyond this date.
Submission of the complete package is necessary, including the motivation letter with the online application; otherwise, the student's application will be considered incomplete and disqualified.
The USAID-funded Center of Excellence for Energy implemented by the Massachusetts Institute of Technology (MIT) promotes and supports equal opportunities among its beneficiaries. The project strongly encourages the participation of women, persons with disabilities, and applicants with socio-economic disadvantages who meet the academic/professional eligibility criteria and stand out in the selection process for participation.
NOTE: Applicants who wish to apply under the socio-economic disadvantage category, please ensure you obtain the documentation required from the University financial assistance office to provide among the documents required with your application. If you have not already registered with the office of financial assistance at the university, please do so in order to obtain the required documentation.
Please refer to the website link for complete information on the scholarship selection process and methodology.
On behalf of the USAID and the Center of Excellence for Energy and Ain Shams, Aswan, and Mansoura Universities, we wish all applicants the best of luck.
For more information please contact us at (scholarships@coe-energy.com)
Register now and join the live webinar 8,10,12 and 15 September