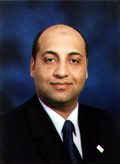 Ayman Mohamed Bahaa Eldin
Professor at Computer and Systems Engineering
---
Career Information
Professor at :
2016-08-11
Assistant Professor at :
2009-10-25
Teacher Assistant at :
1999-11-28
Demonstrator at :
1996-02-28
---
Academic Information
Graduation :
june / 1995 From Faculty of Engineering , Ain shams University
---
Brief
Ayman M. Bahaa-Eldin is a professor, Computer and Systems Eng. Dept. Ain Shams University. Prof. Bahaa-Eldin received his B.Sc., M.Sc. and PhD. in Computer Engineering from Ain Shams University in 1995, 1999, and 2004 respectively. He was a visiting professor in several local and international universities. He was appointed as the managing director of the Egyptian Universities Network (EUN), The Egyptian National Research and Education Network (NREN) from 2010 until 2014. His fields of research are Cryptography, Computer Networks, and Computer and Network Security. He published more than 60 papers in refereed international journals and conferences, managed and participated in several national and international research projects, and participated in the reviewing process of many international journals and conferences.
Articles
1. Bahaa-Eldin, Ayman M; Wahdan, Abdel-Moneim A.; Mahdi, Hani M. K., Edge detection of binary images using the method of masks, Ain Shams University Scientific Bulletin, 35, 3, 2000, Ain Shams University

2. Bahaa-Eldin, Ayman M.; Mohamead, Hoda K.; Deraz, Sally S., Increasing Server Availability for Overall System Security: A Preventive Maintenance Approach Based on Failure Prediction, Ain Shams Journal of Electrical Engineering (ASJEE), 1, 2, 135-143, 2009, Ain Shams University
3. Saleh, Amira; Bahaa-Eldin, Ayman M.; Wahdan, A, Fingerprint Recognition, Advanced Biometric Technologies, 201-224, 2011, Intech
4. Bahaa-Eldin, Ayman Mohammad, A medium resolution fingerprint matching system, Ain Shams Engineering Journal, 4, 3, 393–408, 2013, Elsevier
5. Bahaa-Eldin, Ayman M., A Bio-Inspired Comprehensive Distributed Correlation Approach for Intrusion Detection Alerts and Events in Complex Computer Networks, Bio-inspiring Cyber Security and Cloud Services: Trends and Innovations, Intelligent Systems Reference Library (70), Springer-Verlag, Berlin, Germany, 2014
6. Bahaa-Eldin, Ayman M., TARA: Trusted Ant Colony Based Routing Algorithm for Mobile Ad Hoc Networks, Bio-inspiring Cyber Security and Cloud Services: Trends and Innovations, Intelligent Systems Reference Library (70), Springer-Verlag, Berlin, Germany, 2014
7. Bahaa-Eldin, Ayman M.; Sobh, M., A Comprehensive Software Copy Protection and Digital Rights Management Platform, Ain Shams Engineering Journal, 5, xx,2014, Elsevier
8. Hassan, Dina SM; Fahmy, Hossam MA; Bahaa-Eldin, Ayman M, "RCA: Efficient Connected Dominated Clustering Algorithm for Mobile Ad Hoc Networks", Computer Networks, Vol. 75, pp 177-191,2014, Elsevier
9. Abdel-Halim, Islam Tharwat; Fahmy, Hossam Mahmoud Ahmed; Bahaa-Eldin, Ayman Mohammad, "Agent-based trusted on-demand routing protocol for mobile ad-hoc networks" ,Wireless Networks, Vol. 21, No. 2, pp 467-483, 2015, Springer US
10. Gabra, Hany Nashat and Bahaa-Eldin, Ayman M and Mohammed, Hoda Korashy , "DATA MINING BASED TECHNIQUE FOR IDS ALERT CLASSIFICATION", International Journal of Electronic Commerce Studies, Vol. 6, No. 1, pp 119-126, 2015
11. Essam-Eldin ElDessouky, Ebada and DAG, Hasan and Bahaa-Eldin, Ayman M., "Protecting Openflow Switches against Denial of Service Attacks", International Journal of Computing and Digital Systems (IJCDS) 2017.
12. Abulazim, Iman; Sorour, Amin; Sobh, Mohamed; Bahaa-Eldin, Ayman, "A Cloud-based Malware Detection Framework", International Journal of Interactive Mobile Technologies, 2017
Publications
1. Bahaa-Eldin, AM; Wahdan, A, Genetic algorithm cryptanalysis of the basic substitution permutation network, Micro-Nano Mechatronics and Human Science, 2003 IEEE International Symposium on, 1, 471-475 Vol. 1, 2003, IEEE
2. Bahaa-Eldin, Ayman M; Wahdan, A, Neural network based cryptanalysis of a Feistel type block cipher, Electrical, Electronic and Computer Engineering, 2004. ICEEC'04. 2004 International Conference on, 231-237, 2004, IEEE
3. Bahaa-Eldin, AM; Wahdan, A, Genetic algorithm cryptanalysis of a Feistel type block cipher, Electrical, Electronic and Computer Engineering, 2004. ICEEC'04. 2004 International Conference on, 217-221, 2004, IEEE
4. Bahaa-Eldin, Ayman Mohammad, Key Exchange by Synchronization of two Chaotic Systems, Computer Engineering and Systems, The 2006 International Conference on, 178-182, 2006, IEEE
5. Abdul Hameed, Mohab U; Bahaa-Eldin, AM, A cellular automata random number generator for cryptographic applications, Computer Engineering & Systems, 2007. ICCES'07. International Conference on, 101-105, 2007, IEEE
6. Bahaa-Eldin, Ayman Mohammad , A Co-Processor Architecture for a Cryptographic USB Smart Token, 2008, Information Technology and National Security, Riyadh, Saudi Arabia
7. Hegazy, Ola M.; Bahaa-Eldin, Ayman M.; Dakroury, Yasser H., Quantum Secure Direct Communication using Entanglement and Super Dense Coding, SECRYPT, 175-181, 2009,
8. AbdelHameed, Mohab U; Sobh, Mohamed A; Bahaa-Eldin, Ayman M., Portable executable automatic protection using dynamic infection and code redirection, Computer Engineering & Systems, 2009. ICCES 2009. International Conference on, 501-507, 2009, IEEE
9. Abd Elwahab, A; Bahaa-Eldin, AM; Wahba, Ayman M; Sheirah, Mohamed A, A security layer for smart card applications authentication, Computer Engineering & Systems, 2009. ICCES 2009. International Conference on, 514-517, 2009, IEEE
10. AbdelFattah, Ahmad M; Bahaa-Eldin, Ayman M.; Fahmy, Hossam MA, An Efficient Architecture for Interleaved Modular Multiplication, World Academy of Science, Engineering and Technology 56, 853-857, 2009,
11. Abdel-Fattah, Ahmad M; Bahaa-Eldin, A; Fahmy, Hossam, Modular Multiplication for Public Key Cryptography on FPGAs, Computer Sciences and Convergence Information Technology, 2009. ICCIT'09. Fourth International Conference on, 1096-1100, 2009, IEEE
12. AbdelFattah, Ahmad M; Bahaa-Eldin, A; Fahmy, Hossam MA, Efficient implementation of modular multiplication on FPGAs based on sign detection, Design and Test Workshop (IDT), 2009 4th International, 1-6, 2009, IEEE
13. Talal, Ahmed; Sobh, Mohamed A; Bahaa-Eldin, Ayman M., An efficient implementation of RSA for low cost microprocessors, Design and Test Workshop (IDT), 2009 4th International, 1-4, 2009, IEEE
14. Hassan, Dina SM; Fahmy, Hossam MA; Bahaa, Ayman M, Ring Clustering Algorithm for wireless ad hoc networks, MELECON 2010-2010 15th IEEE Mediterranean Electrotechnical Conference, 458-465, 2010, IEEE
15. Halim, Islam Tharwat A; Fahmy, Hossam MA; Bahaa-Eldin, Ayman M; El-Shafey, Mohamed H, Agent-based Trusted On-Demand Routing Protocol for Mobile Ad-hoc Networks, Wireless Communications Networking and Mobile Computing (WiCOM), 2010 6th International Conference on, 1-8, 2010, IEEE
16. Zaki, Ahmad M; El-Shafey, MH; Bahaa-Eldin, AM; Ali, Gamal M, A new architecture for accurate dot product of floating point numbers, Computer Engineering and Systems (ICCES), 2010 International Conference on, 139-145, 2010, IEEE
17. Taha, Ayman E; Ghaffar, Ismail Abdel; Bahaa Eldin, Ayman M; Mahdi, Hani MK, Agent based correlation model for intrusion detection alerts, Intelligence and Security Informatics (ISI), 2010 IEEE International Conference on, 89-94, 2010, IEEE
18. Zaki, Ahmad M; Bahaa-Eldin, Ayman M; El-Shafey, Mohamed H; Aly, Gamal M, Accurate floating-point operation using controlled floating-point precision, Communications, Computers and Signal Processing (PacRim), 2011 IEEE Pacific Rim Conference on, 696-701, 2011, IEEE
19. Bahaa-Eldin, Ayman Mohammad, Time series analysis based models for network abnormal traffic detection, Computer Engineering & Systems (ICCES), 2011 International Conference on, 64-70, 2011, IEEE
20. Gabra, Hany Nashat; Bahaa-Eldin, Ayman Mohammad; Korashy, Huda, Classification of ids alerts with data mining techniques, 2012 International Conference on Internet Study (NETs2012), Bangkok, Thailand, 1-10, 2012,
21. El-Mal, A; Sobh, M Ali; Bahaa-Eldin, Ayman M, Hard-Detours: A new technique for dynamic code analysis, EUROCON, 2013 IEEE, 46-51, 2013, IEEE
22. Eletriby, M.; Bahaa-Eldin, Ayman M.; Sobh, M.; Fahmy, H., High performance Java Card operating system, 2014 8th IEEE International Conference on Software Security and Reliability (SERE), San Francisco, July 2014.
23. Abdalla, DiaaEldin; Zaki, Ahmad; Bahaa-Eldin, Ayman, "Acceleration of accurate floating point operations using SIMD", 9th IEEE International Conference on Computer Engineering and Systems,2014,IEEE
24. Mamdouh, Ahmed; Sobh, Mohammed; Bahaa-Eldin, Ayman, "On-demand Distributed On-card Bytecode Verification", 9th IEEE International Conference on Computer Engineering and Systems,2014,IEEE
25. Soliman, Khaled and Sobh, Mohamed and Bahaa-Eldin, Ayman and Hegzi, Emad, "Energy Aware Secure Clustring in Mobile Ad hoc Networks", Computer Engineering & Systems (ICCES), 2015 10th International Conference on, 2015, IEEE
26. El-Feky, Shahira Mohamed and Zaki, Ahmed and Bahaa-Eldin, Ayman and El-Shafey, Mohamed, "Identification of systems with fast and slow dynamics using Non-uniform sampling", Computer Engineering & Systems (ICCES), 2015 10th International Conference on, 2015, IEEE
27. Ibrahim, Esraa and Akl, Ahmed and Bahaa-Eldin, Ayman, "Adaptive Smart Redirect and Jump Algorithm (ASRJ) for Wireless Sensor Networks", Computer Engineering & Systems (ICCES), 2015 10th International Conference on, 2015, IEEE
28. Hammouda, Israa; Saied, Hazem; Bahaa-Eldin, Ayman, "Quantum Databases, A Survey", The 11th IEEE International Conference on Computer Engineering and Systems, 2016, IEEE
29. Hammouda, Israa; Saied, Hazem; Bahaa-Eldin, Ayman, "Another Generalized Grover Algorithm To search quantum databases by user ID" , The 11th IEEE International Conference on Computer Engineering and Systems, 2016, IEEE
30. Abdelrahim, Omnia; Taha, Ayman; Bahaa-Eldin, Ayman, "A framework for virtual machine admission control in cloud environment", The 11th IEEE International Conference on Computer Engineering and Systems, 2016, IEEE
31. Mousa, Mohammad; Sobh, Mohamed; Bahaa-Eldin, Ayman, "Software Defined Networking Concepts and Challenges", The 11th IEEE International Conference on Computer Engineering and Systems, 2016, IEEE
32. Abdelrahim, Omnia; Taha, Ayman; Bahaa-Eldin, Ayman, "Virtualization Security, A Survey", The 11th IEEE International Conference on Computer Engineering and Systems, 2016, IEEE
Research Projects
1. Smart Token for E-Business
2. Egyptian Smart Card Operating System
3. A deep Packet Inspection Engine and a Smart Firewall
4. EUMED Grid
5. EUMED Connect