Study Structure
---
IMaREC Curricula
IMaREC offers a Master of Engineering Degree M.Eng. in "Resource Efficient Cities". The program structure consists of 3 phases, as shown in Figure (1).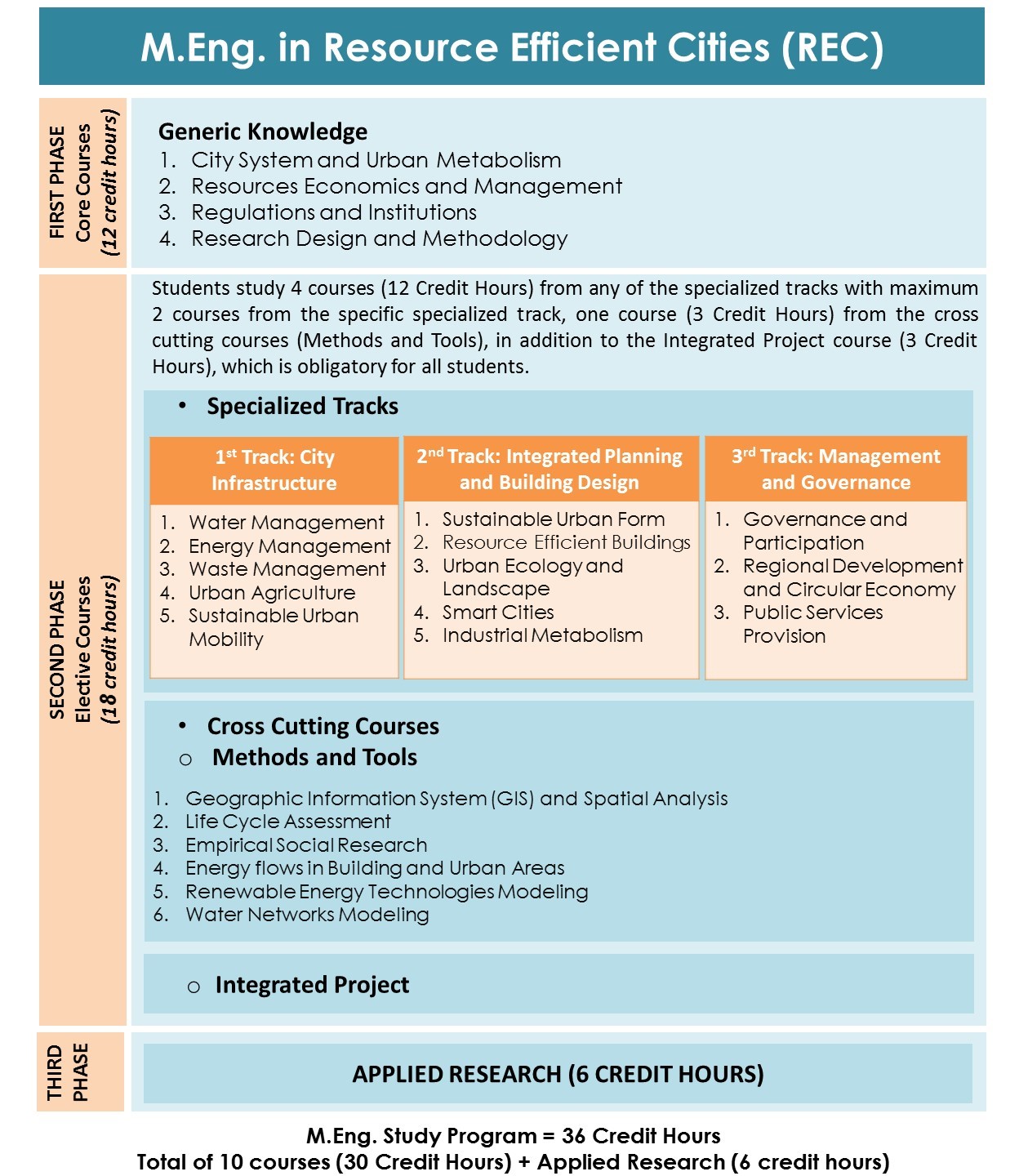 Figure (1) : IMaREC Study Program Structure
First Phase: Core Courses
The first Phase includes 4 obligatory courses (12 Credit Hours). These courses provide the generic knowledge and skills for the inter-disciplinary students group to have a common understanding of the topic with cities as complex socio-ecological systems, and setting the stage with the principles of resources economics and management and the essential knowledge of regulations and laws that govern city institutions. Similarly, a common and mutual understanding of scientific principles applied across disciplines is paramount to effectively study and work inter-disciplinarily.
Second Phase: Elective Courses
The second phase offers a group of elective courses, where students have to accomplish 6 elective courses (18 Credit Hours). Elective courses are categorized into 2 groups:
Group 1: The 3 Specialized Tracks
1st Track: City Infrastructure
For each resource sector listed (water, energy, waste, food, and mobility) these courses provide the knowledge about the respective infrastructural systems, including The demand (households and buildings, industry, ..) and the resources' sufficiency, The infrastructural systems (available and emerging technologies,…) providing the respective services and their efficiency potentials, and The production chain approach and its consistency starting from the service need to the provision to local resource production, including the major users, providers, regulators, as well as the principles of the infrastructures' economics. The students will be able to understand the integrated multi-dimensional character of each resource sector from multiple interdisciplinary perspectives.
2nd Track: Integrated Planning and Building Design
This study track provides information and competencies regarding integrated resources demand and management with the courses are organized according to scales (household and building, neighborhood and city scale, and industry as special large scale demand sector). For each scale, all resources are deliberately assessed with respect to their interdependencies (water-energy-food-nexus, waste-to energy etc..). Complementing this track is a course on urban ecology and landscape as base for the regulative services of nature in urban systems, and one course on the informational integration (smart city approach) to account for new approaches to urban data management and decision support.
3rd Track: Management and Governance
This study track enables the students to achieve knowledge and skills specifically from an urban governance and management perspective. This introduces and defines stakeholders and their roles, the different – partly competing – modes of societies' resources allocation (economical, political, social, and administrative), and the respective institutions, policies and programs, procedures, methods, and tools that are applied. This includes e.g. the perspectives of the public and private sectors in service provision, the contributions of civil society actors, concepts of multi-level and good governance and participatory concepts. The graduates shall be enabled to interact with such diverse stakeholders in understanding the different rationalities of the respective sectors and actors.
Group 2: Cross Cutting Courses
Cross Cutting courses include both "Methods and Tools" portfolio of courses and the "Integrated Project" course, which is obligatory to all students from the different disciplines.
Methods and Tools
This study track provides a portfolio of applied methods and tools for the students to learn and exercise. One major set of courses will be the principles of data acquisition, management and processing from scientific and applied perspectives. Other, more topically focused methodologies allow the students to specialize deeper if so wanted, such as the modeling of energy flows or water networks. These methodologies' course catalogue may be expanded according to further offers in neighboring master programs of the faculty and beyond.
Integrated Project
This course follows principles of project-based / enquiry-based didactics, and builds on real-world study cases from external study program partners (stakeholders from public, private or civil society sectors). By the multidimensional and experimental character, the course provides a test-bed for interdisciplinary work, practical application, exercise of teambuilding and other soft and leadership skills and ideally implements a creative thinking approach including expansion, convergence, and prototyping.
Students study 4 courses (12 Credit Hours) from any of the specialized tracks with maximum 2 courses from the specific specialized track, one course (3 Credit Hours) from the cross-cutting courses (Methods and Tools), in addition to the Integrated Project course (3 Credit Hours), which is obligatory for all students.
Third Phase: Applied Research
The Applied Research is equivalent to 6 Credit Hours. Students should work on their selected topics/projects within the scope of Resource Efficient Cities themes and prepare a research paper of significant depth in applied engineering.