Faculty Requirements
---
All the programs offered at the Faculty of Engineering, Ain Shams University are Engineering Programs. The graduates have the privilege of being Engineers and are automatically enrolled in the Egyptian Engineering Syndicate (EES). The graduates are also entitled to take the Fundamentals of Engineering Exam offered by the National Council of Examiners for Engineering and Surveying (NCEES), based on the agreement between EES and NCEES.
According to the National Academic Reference Standards (NARS-2018), The Engineering Graduate must be able to (A-Level):
Identify, formulate, and solve complex engineering problems by applying engineering fundamentals, basic science and mathematics.
Develop and conduct appropriate experimentation and/or simulation, analyse and interpret data, assess and evaluate findings, and use statistical analyses and objective engineering judgment to draw conclusions.
Apply engineering design processes to produce cost-effective solutions that meet specified needs with consideration for global, cultural, social, economic, environmental, ethical and other aspects as appropriate to the discipline and within the principles and contexts of sustainable design and development.
Utilize contemporary technologies, codes of practice and standards, quality guidelines, health and safety requirements, environmental issues and risk management principles.
Practice research techniques and methods of investigation as an inherent part of learning.
Plan, supervise and monitor implementation of engineering projects.
Function efficiently as an individual and as a member of multi-disciplinary and multi-cultural teams.
Communicate effectively – graphically, verbally and in writing – with a range of audiences using contemporary tools.
Use creative, innovative and flexible thinking and acquire entrepreneurial and leadership skills to anticipate and respond to new situations.
Acquire and apply new knowledge; and practice self, lifelong and other learning strategies.
To achieve these Intended Learning Outcomes, a set of courses must be completed as a Faculty Requirement. These courses are divided into Basic Science Courses and Basic Engineering Courses.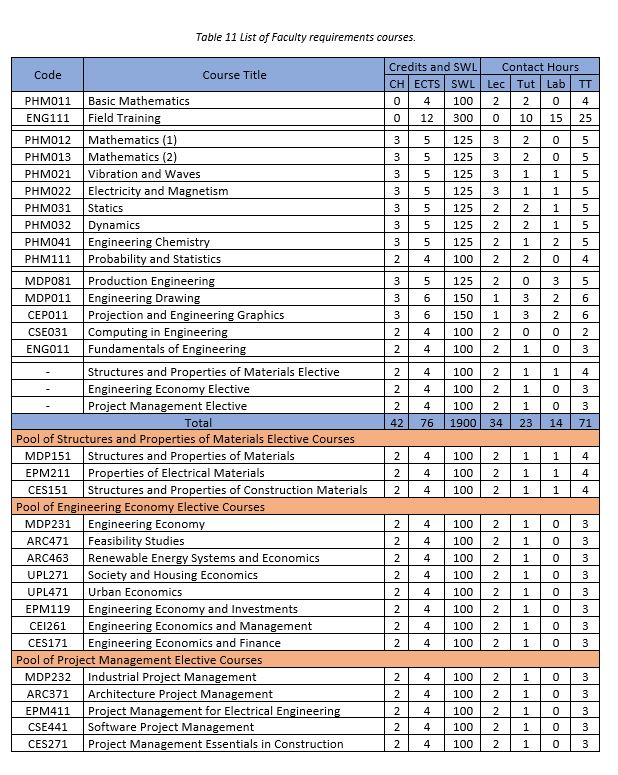 A placement test in Mathematics will be conducted for all admitted students except some High School Degrees which are determined by the Faculty Council. If the student passes this test, then he will be exempted from taking Basic Mathematics Course. The Basic Mathematics course is a pre-requisite for all Faculty requirements courses.